Step-By-Step Internet Marketing Event
Simon Coulson's Simple Course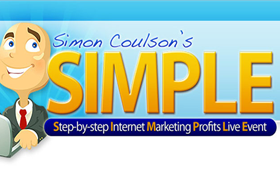 Price: £797 + vat
Financial freedom with Internet marketing
00000
Title:
Simon Coulson's Simple Course
Reviewed by
Jonathan
on
Sep 24
Rating:
Summary:
Step-By-Step Internet Marketing course from Simon Coulson
A comprehensive set of tools including software and proven sales pages are all included in this course from Simon Coulson.
Simon Coulson has personally generated almost ten million pounds from Internet marketing in less than ten years in a range of different niches. The Simon Coulson Simple Course is designed to guide and teach you if you are:
New to Internet marketing and don't know where to start
More experienced in Internet marketing but still not getting the success you hoped for
Looking for a spare time or full time business that can earn you extra income
What's This Business Opportunity All About?
Internet marketing is an excellent choice for a home-based business when you know how to do it and have the right products to sell. It's not particularly difficult, although some sectors are very competitive and finding or creating the right products can be time-consuming. That problem is partly addressed with the 1000 digital ebooks (and sales pages) included in the course. What we also liked was that some of the information, like websites and Search Engine Optimisation, is also transferable to any business wanting to do better online.