Get Hundreds of Business Leads To Call And Hire You
Instant Local Traffic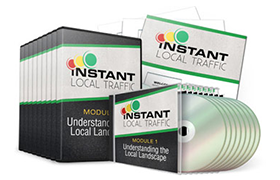 Price: 2 x $97
Payments Spread by 30 days
00000
Title:
Instant Local Traffic
Reviewed by
Jenna
on
Mar 15
Rating:
Summary:
Attract more local leads and enquiries to your website.
Training modules and videos covering simple and effective methods for generating leads and converting these from prospects to clients.
This course will help those want to quickly get hundreds of local leads and enquiries to your website. The course was published by Digital Marketer and will be beneficial if you:
Run an internet marketing business
Want to easily get more clients
The sales page title for the course is, "The Easiest and Fastest Way to Get Hundreds of LOCAL BUSINESES owners to call you and to hire you for your marketing Expertise".
What's This Business Opportunity All About?
If you run a business which supplies internet marketing for businesses, you may be finding it hard to get more clients – either because it's too time consuming, you can't afford to hire someone to do it for you, you haven't yet built a portfolio of satisfied clients, or because you're good at the techie stuff, but poor at client acquisition.
This course helps you gain more clients via the internet, but cheaply and relatively quickly.
It's also suitable if you're running your own business and need help with getting noticed online and bringing in more clients/customers.