How To Make Money Online, Starting From Scratch
Chris Farrell Membership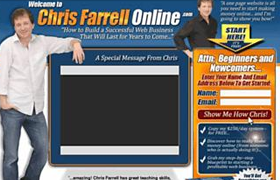 Price: $1 Trial / $37 pm
Voted No#1 Internet Marketing Service
00000
Title:
Chris Farrell Membership
Reviewed by
Mark
on
May 18
Rating:
Summary:
Extensive amount of internet marketing resources presented by Chris Farrell.
A comprehensive set of materials to help you start out in internet marketing or to improve your business' internet marketing strategy. A membership site provided by Chris Farrell, one of the most successful internet marketers in the world.
Internet marketing is the ultimate work from home business, and it's a business worth billions of pounds (or dollars) a year, shared among probably millions of Internet marketers. With IM, as it's known, you can sell just about anything that someone, somewhere wants to buy, even if you don't have a single product of your own. It's no surprise that so many people are keen to start making money online. Internet marketing could be right for you if you:
Want or need to work from home
Want to start a business with low initial investment
Want to make money part time or have more time to invest
What's This Business Opportunity All About?
Chris Farrell has risen from nowhere, starting in 2008, to become one of the most successful Internet marketers in the world, and he has a very good reputation for delivering high quality training materials, too. Chris Farrell Membership gives you access to an 'exclusive' membership website containing all the training materials and resources you need to start an online business or improve an existing one.