Get strategic betting tips on racing and football
Premier Yorkshire Betting Service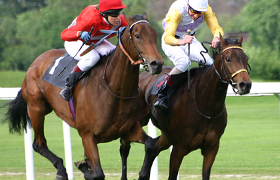 Price: By invitation only. Price not published but joining fee approximately £100, then £79 monthly
Premier Yorkshire offer a telephone-based betting and tipping service, suitable for the casual gambler.
00000
Title:
Premier Yorkshire Betting Service
Reviewed by
Mark
on
Mar 6
Rating:
Summary:
Casual betting system using a PIN-protected telephone service for members
Premier Yorkshire offer a selective betting service, backed up by the fact that they themselves bet on every selection that they recommend and post results online.
Betting attracts people for a variety of reasons, but the thought of a tax-free income is one of the main ones, and Premier Yorkshire concentrates on this aspect in its approach to would be members. Being more selective and objective should enable people to avoid becoming habitual gamblers and this approach could be right for you if you:
Want to use betting as an source of income
Don't want or expect to bet every day
Want to use experienced advice to save your own time studying form, conditions, etc
What's this business opportunity about?
There are a multitude of tipping services available; using a telephone service or emails, and this service uses a PIN protected telephone system. By being more selective than some services, the idea is that you only place one or two bets a week, on horse races or football matches, so you avoid betting for the sake of a bet. The selective approach should mean more profitable bets, as long as the tipping service gives you more winners than losers.