Learn From The UK's Leading Internet Marketer
Simon Coulson's Internet Cashflow Daily Profit System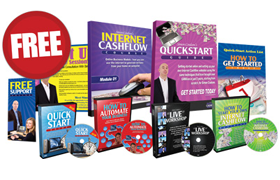 Price: Free 30 Days then £29.95 p/m
Take A Free 30 Day Trial Before You Pay
00000
Title:
Simon Coulson's Internet Cashflow Daily Profit System
Reviewed by
Jonathan
on
Oct 18
Rating:
Summary:
Learn internet marketing techniques from one of the UK's leaders in the field, Simon Coulson.
This 12-month course brought to you by Simon Coulson, one of the UK's most successful internet marketers, aims to show you a myriad of techniques you can use to profit from marketing products and services online.
The Internet Cashflow System, as we'll call it from now on, is Simon Coulson's comprehensive twelve-month course on how to make money online. Simon is probably the UK's most successful Internet marketer and he's not shy about showing you the lifestyle it has brought him. Not, he says, to make you envious, but just to prove to you he is the real deal. While you won't make the kind of income Simon Coulson has achieved, you might still want to learn about Internet marketing if you:
Want to make money from home, using just a computer
Want to work at a time that suits you or fits around an existing job
Want to potentially make a lot more while working a lot less
What's This Business Opportunity All About?
Rather than concentrating on one method of making money online and taking it step by step, this course covers just about everything Simon uses in his business and allows you to choose which parts of it you want to copy. You can expect to learn about product creation, website building and getting traffic, automating and outsourcing to save time and effort, and more. If that starts to sound daunting, remember you have twelve months to absorb it all and start putting it into practise.