Learn Proven Methods From A Successful Publisher
Copy & Profit Blueprint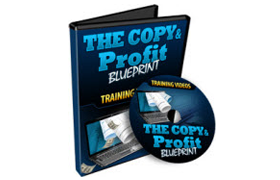 Price: £97
Limited time special offer of £47
00000
Title:
Copy & Profit Blueprint
Reviewed by
Andrew
on
Jun 22
Rating:
Summary:
UK Entrepreneur Neil Stafford shows how to create and sell information products.
This modular course covers everything you need to know to starting to sell your own information products. Using a proven blueprint system you can soon be underway with creating and selling from your initial outlay.
This course is published by a well-known content creator and UK Internet entrepreneur, Neil Stafford. He has been been around for over 10 years. With the many years of experience of Internet marketing, he has published this course comprising of:
A set of three blueprints
Each blueprint is about building on the other
So that you can create and sell information products online
What's This Business Opportunity All About?
The creator of Copy & Profit Blueprint, is well known and respected for his knowledge of the Internet marketing and making it work for him.
The model this course embraces is one the author has been using successfully for at least 13 years and now he is sharing it with you… and, in fact, the steps are even easier to implement now with today's technology and with so more people on the web.
In addition, you get plenty of bonuses which complement the course.