The Hidden 'Black Hat' Secrets Of Internet Success
Black Hat Masterclass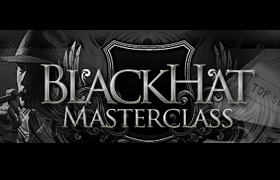 Price: £297 + VAT
Ongoing support £67 per month available
00000
Title:
Black Hat Masterclass
Reviewed by
Scott
on
Jan 4
Rating:
Summary:
Use 'black hat' internet marketing methods to gain an advantage over your competitors.
Course instructing in the use of 'black hat' (although legal) techniques to use in internet marketing that will allow you to get the jump on your competitors. Ongoing monthly support available.
Internet marketing is a lucrative business that millions of people attempt but, according to Simon Coulson, only about three percent really succeed. Are the biggest earners just lucky or do they know things that most of us are never privy too? The point of the Black Hat Masterclass event in November 2011 was to share some of those secrets with a small audience, and this limited edition DVD set is a recording of three of that event's main speakers. Learning black hat techniques like this might suit you if you:
Want to take your Internet marketing to a higher level
Want to have an 'unfair advantage' over your competitors in IM
Don't mind using methods that some people might think are underhand
What's This Business Opportunity All About?
Internet marketing, while it can be very rewarding financially, is also very competitive at times, especially in some of the more lucrative market sectors. These may be the ones you want to target, and your most successful competitors probably have more tricks and techniques in their armoury than most people. You might well find that adding some 'black hat' (but not illegal) methods to your business will make a major difference to your results.