Beginner's Guide to Affiliate Marketing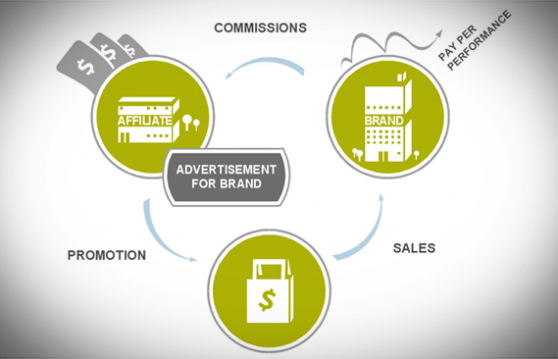 Title:
Beginner's Guide to Affiliate Marketing
Reviewed by
BizOpp Insider
on
Jan 30
Rating:
What is Affiliate Marketing?
Affiliate marketing is an effective marketing method. As an affiliate marketer you sell other people's products or services and in-return make money from doing so. In other words, you would gain a monetary reward by promoting the products and services of others. So, if you were to send a customer to a products page and the customer then bought that product, you would gain commission as it was your link that enabled them to buy the product.
Affiliate marketing has become a popular choice of marketing for many as it is both quick and cheap to set up, whilst allowing you to begin making money on the net, with little effort. The beauty and ease of affiliate marketing is that you do not have to create any of your own products. All you have to do is link up the buyer to the seller, and hey presto, you've made your commission.
So, How Do You Become An Affiliate Marketer?
Firstly, you need to join affiliate programmes, than select the products that you want to sell. A unique affiliate code will be provided by the seller in order to refer traffic to their relevant site. To make the process even simpler, most affiliate programmes provide ready-made banners and text links so all you have to do is copy the code and insert it into your website to begin referring traffic.
You will be issued with an affiliate ID upon joining an affiliate programme and it is this ID that will track your performance. We suggest that you identify 'affiliate networks – link to previous article' with the merchants you want to promote.
There are other ways in which you can make a commission without selling products, including; Pay Per Lead, Pay Per Sale and Pay Per Click. These work as follows:
Pay per Lead: When a referred visitor provides their contact details via a contact form, you get paid
Pay per Sale: When a purchase is complete, the merchant pays you a percentage of the sale price
Pay per Click: When a visitor is redirected you get paid, yet the amount you get paid will depend on the level of visitors you redirect and whether a sale is made
Why Become An Affiliate Marketer?
Believe it or not, affiliate marketing is one of the best internet marketing techniques to earn you money, not convinced? Keep reading to find out why:
Affiliate marketing means you can work from the comfort and convenience of your own home
It's a cost effective way to make money, as it's cheap to set up and run, whilst you don't need a business premises or staff members to make it work
There are no fees to pay, as joining the affiliate network as a publisher is free
Working online means you can reach people on a global scale
No customer support needs to be provided
You can gain a steady income, without being in front of your computer
You don't have to worry about storing products or shipping them
What Are the Advantages of Being An Affiliate Marketer?
Affiliate marketing may not make you rich overnight, but it does supply an array of benefits. It is an excellent way to make money on the net, but competitive too, which is why you need to understand what the market need. Read on to discover tricks and tips to help you become a prosperous affiliate marketer:
1) Avoid Signing Up With Every Single Affiliate Programme
To begin with, choose a small number of networks, check out our top 9 affiliate networks you need to join article. When beginning in the world of affiliate marketing, many sign-up with as many affiliate programmes as they can, but this can be somewhat overwhelming. Instead, choose a few good networks, they will have a good range of programs to choose from that will suit you. Discover which merchant programs are the best performing as this will help you identify which merchant can best convert your marketing efforts into cash for you. Additionally, choosing products that align with the topic of your site will help, as this is what your market will be looking for.
2) Promote Products With Several Traffic Sources
The majority of affiliate marketers tend to feature ads on their sites only. This is fine, however there are many other ways in which to maximise your profits by featuring ads via further traffic sources. The more targeted traffic that you can send to the sales page, the more money you are likely to make.
By making an ad in your Google Adwords account, you can drive targeted traffic to a sales page. This can be achieved simply by using your affiliate link in the target page URL of the ad. Once this is complete, you will need to monitor your account in order to measure your conversions to ascertain whether to keep the campaign running or not.
3) Be Sure To Track Your Affiliate Campaign
Testing and measuring different product promotion strategies is a good idea, this way you can determine what is working and what is not. Setting up tracking for your different traffic generating sources will enable you to find out the best and most profitable method of traffic for you.
Split testing is an effective way to test and measure the performance of each campaign. Whilst, real-time reporting which is usually offered by your chosen affiliate network will enable you to remain in-the-know in regards to generated traffic, clicks, leads, sales and commission.
4) Is There A High Demand For the Product
If the products you are trying to sell are not in demand, you will decrease your chance of getting many sales. This is why research is key, in order to locate products that your audience needs. For sites with a good level of traffic, conducting an online survey will enable you to get feedback from your visitors with ease.
5) Stay Up-To-Date With New Techniques
There are always new techniques to be considered in the world of affiliate marketing. Affiliate marketing is a very competitive business, so if you want to keep ahead of the rest, it's important that you keep up with these new techniques. If you don't you are likely to fall behind.
6) Choose Your Merchant Wisely
When you choose to promote someone else's product, it's important that you check whether the merchant is respectable or not. The last thing you want is to sell your visitor a product that is no good, as this will impact on your site and your reputation. Additionally, when choosing your merchant, search through the merchant's list for programs that you can also promote.
Something to remember: a website that offers good customer service has better customer satisfaction.
7) Make Use of the Right Tools
If you want to be an impressive affiliate marketer, making use of resourceful tools is important. There is a handful of useful tools to be had and for those of you using a site powered by WordPress, getting a plugin such as this 'Affiliate Link Manager' is a good idea.
If you truly want visitors to click on your affiliate links and buy the products featured on your site, you need to have a structured plan to adhere to. It's no use sitting there and hoping that visitors will buy, you need to make it happen. At the end of the day, Affiliate marketing is a business, which is why you need to treat it like one.