Learn How To Dominate YouTube
YouTube Hijack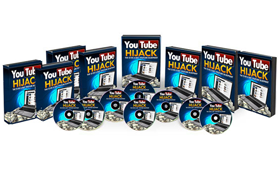 Price: $17
Low Cost - High Value
00000
Title:
YouTube Hijack
Reviewed by
Lucy
on
Mar 15
Rating:
Summary:
Learn effective ways to use YouTube for profit
Learn the exact step-by-step methods used by Sarah Staar to dominate YouTube and monetise her videos. Includes tutorial videos showing how to profit from your initial investment.
This course promises to hand you the exact, step by step blueprint that's used by the author to dominate YouTube – Even if you don't want to make or even have your own video.
What's This Business Opportunity All About?
The YouTube Hijack author, Sarah Staar, shows you strategies for making money on YouTube – ones that she has used successfully for the past four years. Because of the sheer size of YouTube, there is plenty of room for more people to use these strategies too. It is suitable for both internet-savvy users and internet and techie-challenged newbies.