Earn Money In Your Spare Time As A Freelance Writer
Writers Bureau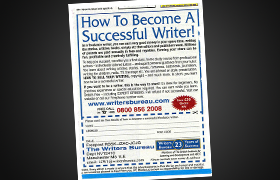 Price: £294
Become a freelance writer
00000
Title:
Writers Bureau
Reviewed by
Anna
on
Oct 11
Rating:
Summary:
Learn to earn extra income as a freelance writer
The Writers Bureau correspondence course covers many aspects of writing as a career. Learn a variety of writing styles together with tips and tricks to help you build an income from working as a freelancer.
This is an unusual business opportunity in that it is designed to give you the tools to create a new career for yourself, while finding the work and the paying clients is left to you. As a freelance writer you could potentially write articles, stories, books, plays and more, including a lot of professional and business writing that most of us don't even think about. We know from first-hand experience the satisfaction that comes from having anything published and the course could be right for you if you:
Think you have a talent for writing and want to hone it
Would like to earn money from writing but don't know how
Want a planned course with feedback from professional writers
Want or need to study from home
What's This Business Opportunity All About?
Writing courses have been around for many years and many professional writers have passed through them on the way to successful careers. For most writers, though, their income from writing comes from freelance work (writing to order) or for a specific market. This can still be very creative and satisfying but professional writing isn't quite as glamorous as you might like to think. Still, it often beats working for a living!