Freedom To Make Money Even When You're On Holiday
Work From No Home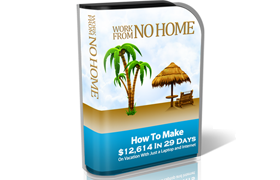 Price: $37
60 day money back guarantee
00000
Title:
Work From No Home
Reviewed by
Jonathan
on
Oct 18
Rating:
Summary:
A 5 module course sharing all of Peng Joon's secrets to making money working from anywhere.
Peng Joon shares his own methods for generating income via affiliate marketing in this comprehensive video-based course.
Peng Joon, the course creator, has earned huge amounts of money with the methods he teaches you. This is a true opportunity to start creating steady, affiliate income. If you're not sure what 'affiliate income' means, it's earning a commission/fee when you sell someone's product for them.
As soon as you buy the course, you'll get access to:
All the course videos
PDF guides (for those who prefer reading to watching)
A blueprint
A list of trusted people to outsource to, should you want them
The course is delivered over five modules, and you can also expect a couple of valuable, complementary bonuses too.
What's This Business Opportunity All About?
Why 'work from no home?' Well, firstly, 'workfromhome.com' went ages ago, and secondly, it's a way of saying you don't even have to be at home to earn – you can be on the beach, in the café – wherever you please!
Despite all the changes to how it's done, affiliate marketing is still an excellent way to make anything from a modest (but welcome) to a very good income.
Work From No Home shows you how to make money by:
Teaching you how to rank websites on Google
Teaching you how to get people to buy through your links
This opportunity is nothing to do with 'bum marketing', which…