Beat the bookies with this daily tipping service, possibly.
Ultimate Syndicate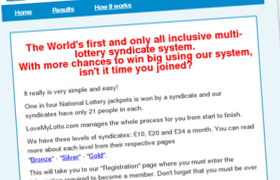 Price: £96 per month
Ultimate Syndicate, brought to you by Colin Davey, is an email betting service using which you will receive daily racing tips.
00000
Title:
Ultimate Syndicate
Reviewed by
Simon
on
Mar 6
Rating:
Summary:
Ultimate Syndicate is a daily email racing tip service.
Colin Davey, who is reasonably well-known in betting circles, offers you the chance to receive daily email betting tips through his Ultimate Syndicate service.
Betting on horse racing is easy, but winning consistently isn't, unless you have a real affinity for the sport, a lot of inside knowledge or a very good tipping service at your disposal. Ultimate Syndicate claims to be that tipping service and also claims impressive results. This kind of service could be useful for you if you:
Want to bet regularly and receive daily tips
Want to rely on someone else's experience and knowledge of horse racing
Can afford some losing bets
What's this business opportunity about?
Colin Davey has launched many betting tips services over the years – going back over a decade – and is quite well known in horse betting circles. With Ultimate Syndicate he claims he is forming the most profitable gambling syndicate the country has seen. Can he live up to the hype?