Simple Binary System For Low-Risk Financial Trading
Tunnel Trader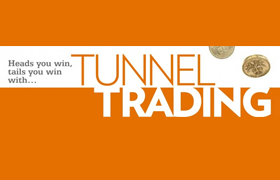 Price: £179
Click now to order your manual
00000
Title:
Tunnel Trader
Reviewed by
BizOpp Insider
on
Oct 15
Rating:
With yet another financial trading product on the market it's clear there is a hungry audience for anything that makes trading simpler, safer or more profitable for smaller or less committed traders. This is another binary system from John Piper, who seems to be well respected in the business and who has produced a series of products for the less experienced.
What's This Business Opportunity All About?
Tunnel trading is essentially betting at fixed odds that a market will stay within two limits, which would appear as two parallel straight lines on a graph, hence the 'tunnel'. If the market goes outside these limits you lose, and if it stays within them, you win. This is not something that a beginner is likely to have much of a clue about, so it needs the expert help of an experienced trader, hence the product, Tunnel Trader.