Tim Lowe's Super You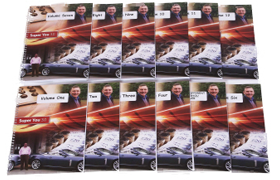 Price: £1 Trial
Achieve more with goal setting and productivity tips
00000
Title:
Tim Lowe's Super You
Reviewed by
Jenna
on
Feb 4
Rating:
Summary:
Useful goal setting and productivity advice.
12-part monthly course to help in maximising productivity in any business venture by learning how to set goals and have a better attitude towards achieving these.
This is not so much a business opportunity as a means to help you achieve more in any enterprise you undertake and become more successful in any business. By setting goals and having a better attitude to your goals, you can maximise productivity and should be able to get further, faster. This kind of goal setting and productivity advice could be useful for you if you:
Have a business of any kind that is underperforming
Are not achieving as much as you feel you could in any field of activity
Want to have a healthier attitude to success and be more open to opportunities
What's This Business Opportunity All About?
The principle behind this product is that you can achieve more or less in any enterprise, depending largely on your attitude to it, your persistence and your level of productivity. Your ability to persuade other people is also a major factor that successful people tend to have in common, and that ability alone can separate leaders in all walks of life from the less successful people who follow them.