Two Ways To Make Money Betting On The Horses
The Midas Method by Steve Gilruth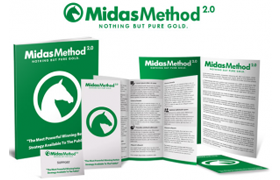 Price: £48 + VAT
A system you can follow daily
00000
Title:
The Midas Method
Reviewed by
Scott
on
Oct 22
Rating:
Summary:
Steve Gilruth shows you his methods for making money betting on horse races.
The Midas Method is a report outlining Steve Gilruth's system based on backing horses to get place and/or to win particular races, and can be applied at courses throughout the world.
The title says it all, really: Betting Expert Banks £8,400+ in Just 9 Days using a Secret Formula that Easily Finds Consistent Daily Winners!!
The report is, of course, not just how Steve Gilruth made this money betting on horse races; he also promises to tell you how to do this for yourself with his two winning formulae.
You can:
Do this daily
Start with small stakes and build up
Do it on a very part time basis
What's This Business Opportunity All About?
The Midas Method by Steve Gilruth is a system based on backing horses to get placed and/or win; it can work world-wide, even if you don't have access to the recommended BetFair. He says there are three simple steps to his plan 'that anyone with a spare 15-30 minutes can do'. They are: