How To Grow Your Business Using Social Media
Social Media Profits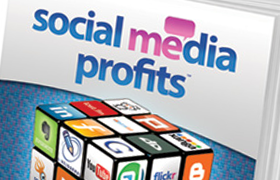 Price: Free 1 Month / £29.95 per month
Utilise the time you already spend with social media
00000
Title:
Social Media Profits
Reviewed by
Jenna
on
May 18
Rating:
Summary:
Learn to use social media to promote your business and sell products.
Established social media marketer Milli Ponce shows you the methods she uses to generate interest in a business and its products using social media-driven promotional techniques.
The fastest-growing and most used websites on the Internet are social media sites like Facebook, Twitter and others. With so many people spending so much of their time on these websites the possibilities for businesses to promote themselves and advertise their products are too good to resist – especially as social media websites are mostly free to use. This course aims to help you promote your business, sell products and make money using social media.
What's This Business Opportunity All About?
Milli Ponce is an established social media marketer, as much as anyone can be in such a new arena, and seems to be a respected expert and speaker on social media at seminars and events. A few years ago only small players were interested in making money via sites like Facebook (and MySpace), but now even multinationals are 'engaging' with potential customers, especially on Facebook and Twitter, which suggests it could be a cost effective way for you to do business, too.