Don't Write A Blog - Create Your Empire
Pop Up Publisher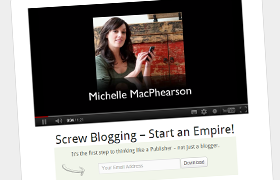 Price: $97
Create An Empire Where You Pay On Results
00000
Title:
Pop Up Publisher
Reviewed by
BizOpp Insider
on
Oct 18
Rating:
Summary:
Blogging product from Michelle MacPhearson that aims to show you how to make money from a network of weblogs.
Michelle MacPhearson's Pop Up Publisher is aimed at those who are competent writers, or know someone who is, and focuses on the various methods available to bloggers to effectively monetise their blogs.
Pop Up Publisher is the a blogging product from Michelle MacPhearson, tapping into the renewed popularity of blogging as a way to make money online. The good thing about blogs, from a search engine's point of view, is that they are filled with content that can be regularly updated, relevant and useful for readers. From a publisher's point of view blogs are simple to maintain and update, as long as you're a competent writer of have someone available who is. Blogging can be good for your online business, then, if you:
Are a competent writer or have a staff member who is
Have plenty of ideas for content and the time to research them
Want to add fresh content online that will attract and retain visitors and please Google
What's This Business Opportunity All About?
Writing and maintaining a single blog, or even two or three, is not too onerous, but keeping more than that up to date can seem daunting. A lot of blogs hardly get updated at all. You won't see many of them because the search engines tend to penalise them and they become almost invisible. This is not good if you want to make money with your blogs. Pop Up Publisher may give you the tools to keep all your blogs updated, and to add many more to your empire, while 'monetising' them more effectively.