Win Cash By Accepting Online Offers
Paid Offers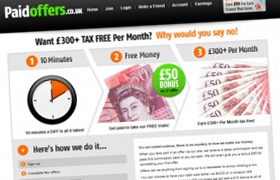 Price: Free
Can money really be made from this?
00000
Title:
Paid Offers
Reviewed by
Mark
on
Oct 19
Rating:
Summary:
Earn part commissions paid by major companies for submitting your details to them.
Paid Offers focuses on showing you companies who will provide rewards in exchange for your contact details and possible participation in some trial offers.
Not many of us would say no to free money, depending on what we have to do to get our hands on it. Paid Offers aims to cash in on our eagerness to cash in, by passing on part of the commissions paid by major companies in exchange for getting our contact details. The only way to find out if this was a legitimate way to make money was to sign up and try it, with encouraging results. You might like to try this for yourself if:
You want to make some really quick cash
You don't mind sharing your contact details with reputable companies
You want to sign up for a bank account, savings plan or movie download service
What's This Business Opportunity All About?
If something looks too good to be true, it probably is. When someone wants to give you money you can be sure they want something more in return, and in this case it's obviously the commissions they get from the companies you sign up with. It's possible that you have a need for the services these companies provide and you can 'earn' the £300 that Paid Offers says you can make. It is unlikely, but it's possible.