A Simple Football Betting Formula
Goal-den Formula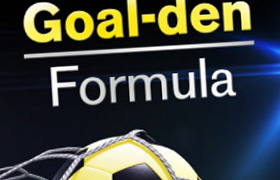 Price: £39.95
Easy to follow system
00000
Title:
Goal-den Formula
Reviewed by
Scott
on
Oct 18
Rating:
Summary:
A football betting system brought to you by Matt Houghton.
A simple 'mechanical' football betting system, suitable for beginners, that focuses on goals scored rather than on actually predicting results of single matches.
You won't be surprised to learn that Goal-den Formula by Matt Houghton is all about betting on football, and particularly on goals scored. Unlike a lot of betting systems, this one is quite simple to understand and apply, with the best results likely to come from sticking strictly to the system. Perhaps even more encouraging is the fact that you don't have to predict the result of a single match – it doesn't matter who wins or even if the match is a drawn. So this kind of betting system could be right for you if you:
Want a simple 'mechanical' system for choosing bets
Want a system that has a good track record so far
Are interested in football betting rather than horses or other sports
What's This Business Opportunity All About?
Betting systems are often complicated and sometimes difficult to apply, and the maths can be baffling, so a system that's easy to understand and doesn't involve complicated calculations is going to be popular – as long as it works. Goal-den Formula has one simple idea behind it, which is to place bets on individual games producing more or less than 2.5 goals. So, two high-scoring teams are likely to produce more goals than two teams who are struggling to score, regardless of who wins. The trick is to find games where the bookies' odds make the bets worthwhile, and that's what Goal-den Formula aims to help you do.