Cheap Access To Low Quality PLR Content
Genie Dream PLR by Mark Nathwani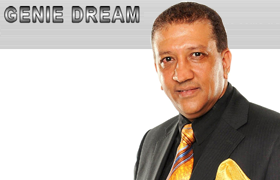 Price: Free - $297
Save having to create your own content with this offer!
00000
Title:
Genie Dream
Reviewed by
Richard
on
Oct 22
Rating:
Summary:
Resell from the world's largest library of Private Label Rights content.
Genie Dream offers you the chance to make use of a PLR content library covering topics over a wide range of different niches, and to make money reselling or using this as promotional giveaway material.
Genie Dream is the world's largest PLR (Private Label Rights) & Resale Rights library covering, as the site owner says, topics across over 700 Niches totalling over 1,000,000 products. Example niches include:
Action, Adventure, Affiliates, Animals, Articles, Arts, Audio Ebooks, Auto, Beauty, Body, Business, Cats, Children, Christian Books, Classic E-Books, Computers, Cooking, Crafts, Decorating, Diet, Dogs, E-Books, E-Business, E-Marketing, Educational, Entertainment, Family, Fantasy, Fiction, Finance, Fitness, Food, Forex, Gambling, Games, Garden, Golf, Health, History, Hobbies, Home, Home Business, Horror, How To, Humour, Illustrated, Internet, Investing, Jobs, Law, Legal, Management, Manuals, Medicine, Men, Mind, Music, Mystery, Nature, Non Fiction, Novels, Parenting, Philosophy, Poetry, Programming, Psychology, Real Estate, Relationship, Religion, Romance, Sci-Fi, Science, Self Defence, Self Help, SEO, Spirituality, Sports, Thrillers, Travel, Video, Wedding, Weight Loss, Women, Young Adult.
What's This Business Opportunity All About?
The opportunity isn't there for you to spend the next several years reading and learning (though you can, if you wish). Rather, the content is there for you to sell or use, in some instances, as giveaways to build your own list(s) of subscribers.
So, how would you do that? Well, the many products on the site are supplied/sold with certain rights and, at the very least, you can sell them on (as many copies as you wish), and keep the proceeds.
The site itself is confusing in the extreme. The pages are hard to navigate, they don't have the same look from page to page, the links to the Terms & Conditions, Privacy Policy and Contact Us pages are broken, one is confused as to what actually is payable (or, rather, how often), and the promised parts to the menu (the links to the free and starter products) are not there when logged in.
In addition, when you get a welcome email, there are no contact details found at the foot of the email as one would expect, and the 'contact' link there is broken too.
Assuming you can find your way around, you'll find a mixture of products: some very poor, some indifferent and some good. There are thousands of products (compiled, not created, by Mark Nathwani) and it will be up to you to sort out the good from the bad, and the downright misleading or merely wrong from the correct and informative.
Before we look at what you can do with the products, let's look at what the rights mean:
Resell Rights – If you have a product with resell rights, this means you can sell the product as many times as you want, and keep 100% of the revenue. The recipients, however, do not have the right to sell the products; their purchases are for their personal use only.
The products have to stay 'as is', and you may not claim authorship or copyright. Sometimes a licence may stipulate a minimum price at which you can sell the product and/or if you can bundle them in with other products or put them on a membership site.
Master Resell Rights – If a product carries Master Resell Rights, it means you can sell it on with Resell Rights. This means the purchaser can sell on the products themselves (as many copies as they want,) and keep the revenue of their sales. For this reason, products with MRR (Master Resell Rights) tend to sell at a higher price than those with ordinary Resell Rights.
The products have to stay 'as is', and you may not claim authorship or copyright. Sometimes a licence may stipulate a minimum price at which you can sell the product and/or if you can bundle them in with other products or put them on a membership site.
Private Label Rights – PLR products are for you to do with as you wish. You can:
Use the content as is
Claim authorship
Make any changes
Use the content in another format
Sell on the rights to your new materials (and often the PLR itself, depending on the originator's stipulations)
What to do with your products
Depending on which level you bought into, you'll have a certain number of products to use for your business. So, depending on the rights assigned to individual products, you could:
Sell the products on your own site
Sell one product per mini site
Use as bonuses when you're selling something on
Repurpose them (reword/reformat) and sell as a new product
Use them as an incentive to sign up on your squeeze page
Put them on your own membership sites
Print them as physical books
Split a book into chapters/sections and use as a mini-course
Send them out for free as ebooks or reports and encourage people to share them; you include affiliate links in them
Use as articles or blog posts
Etc
What Do You Get?
Depending on what level you've bought into, you will get a selection to thousands of ebooks, audio and videos, each with one of the following rights: Resell Rights, Master Resell Rights (MRR), and Private Label Rights (PLR); see above for the explanation of these terms. You can choose to buy store, so a large part of the set up needed for selling is done for you.
Do I Need Experience To Make This Work?
Yes, you will. Membership with this site enables you to download a range of products to use in your business. You will need to know, however, how to sell the products. To do that, you'll need to be able to:
Set up websites
Set up squeeze pages
Use social media
Use search engine optimisation
…in other words, you'll already need to know about internet marketing, or be a little way along the path. Of course, some of the products deal with these very things.
You'll also need to be able to tell good information from bad, and have good editing and copywriting skills.
How Much Money Do I Need To Invest?
Apart from your subscription, you'll need money to invest in websites, hosting and marketing – and maybe outsourcing. If you're working to a budget, don't worry, because you can get websites and hosting quite cheaply, and there are plenty of free marketing strategies. If you really need someone to rework content for you, you could agree that they do the reworking, you do the selling, and you split the proceeds.
How Much Money Can I Make?
Depending on what you do with the products, you could make anything from 20 dollars/pounds a day to hundreds per month; the real income is likely to be between these two points.
How Much Time Will I Need To Make This Work?
This depends on your current knowledge and set up. For example, you could be uploading products to sell by the end of today, and sending out notification to your list. On the other hand, you might have to start building sites and social media accounts from scratch – depending on your skills in that arena, that could take you a few months, or you could be up and running by the end of the week.
Will I Need Any Equipment To Do This?
You'll need a computer, access to the internet, a word processor (such as MS Word or Open Office's Write), and possibly some video software.
Is It Value For Money?
If you want a lot of materials for a small amount of money, then yes. You will, however, have to invest plenty of time sifting through the products (to find ones in your niche, and decide which ones are good quality and delete the poor ones), and maybe repurposing the PLR ones.
Whilst the concept of the site is sound, the pricing structure is very confusing, and you're getting a mixed bag of goods. Overall, we'd say the overall value of products and what you have to do with them is far below average.
You could use the products as they're meant to be used – selling them and keeping all of the proceeds. Try not to be so overwhelmed by the number of products that you do nothing with them; if you do go ahead and buy (which we do not recommend) pick one niche at a time and run with that – you will have time to go back to get more when the time is right.
This is doable, once you have spent hours of your time picking out good products and have internet marketing and writing skills.
Product Name: Genie Dream
Publisher / Author: Mark Nathwani
Company Name & Contact Details:
Coombefield House
Ground Floor Office
New Malden, KT3 5QF
Email: [email protected]
Telephone: 0203 002 9030