Popular Takeaway And Delivery Pizza Franchise
Domino's Pizza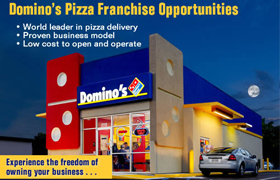 Price: £280,000 + VAT
Serious investment required
00000
Title:
Domino's Pizza
Reviewed by
Lucy
on
Oct 19
Rating:
Summary:
Franchise opportunity with a nationally recognised brand.
With over 700 franchise outlets in the UK, Domino's Pizzas offer a business opportunity backed by an international company with extensive marketing behind them.
While Domino's don't like their pizzas to be labelled 'fast food' most people would put the company, with its 770 franchised outlets, into that category. Whatever you want to call them, there's no doubt that Domino's Pizzas have been very successful in the UK. Investment in any food franchise is substantial, and you'll need a lot of available cash to open a Domino's Pizza outlet as you will with any other. However, there is clearly money to be made from takeaway and home delivered food, and this kind of business could be suitable for you if you:
Want to start a food based business with a nationally recognised brand and extensive marketing
Are prepared to work hard for your money rather than having it work for you
Might want to own several outlets and grow a substantial business
What's This Business Opportunity All About?
The recession doesn't seem to be doing too much damage to fast food and takeaway outlets. With cash in shorter supply people are becoming more inclined to treat themselves to a pizza at home rather than going out to a more expensive restaurant. That means that buying a pizza franchise could be a good move, even though it's a big outlay by most people's standards and there are undoubtedly cheaper ways to set up in business.