Learn To Trade For Tax-Free Gains
Daily Cash System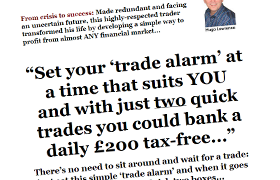 Price: £495 + VAT
70-day money back guarantee
00000
Title:
Daily Cash System
Reviewed by
Scott
on
Oct 16
Rating:
Summary:
Simple trading system brought to you by Hugo Lawrence
This system purports to be an easy to understand and easy to implement trading strategy, which involves setting a 'trade alarm' and reacting in the way that is suggested when it goes off.
Daily Cash System by Hugo Lawrence is said by some to be an easy to understand and implement trading strategy.
'Set your 'trade alarm' at a time that suits YOU and with just two quick trades you could bank a daily £200 tax-free… There's no need to sit around and wait for a trade: just set this simple 'trade alarm' and when it goes off, jump online and tick two boxes… If they're both ticked, you place a tiny trade. If not, you just reset your alarm and get on with your day as normal, without worrying about a thing…That's exactly what people already using my simple no-stress strategy are doing each and every day…'
What's This Business Opportunity All About?
If you're a busy person, then that's fine – Hugo Lawrence says you only need to make two quick trades a day with this system – it's like a set and forget – to make a decent amount of money.
Want to test this assertion? There's a 10 week guarantee and during this trial period you could, using the strategies shown, make up to £5,500 tax free with little investment.