Clicksure Vs Clickbank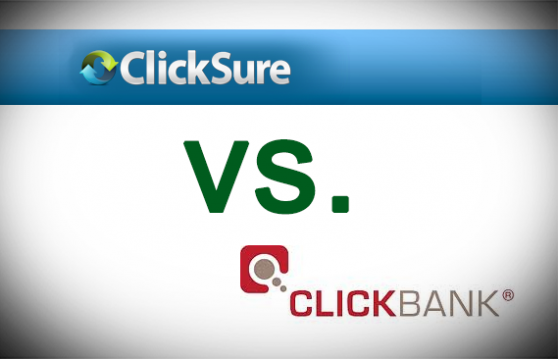 Title:
Clicksure Vs Clickbank
Reviewed by
Iain
on
Nov 13
Rating:
For those of you not already aware, ClickBank is the biggest digital marketplace for information publishers on the internet.
No matter what information you seek, be it how to remove stains from your carpet to tips on seducing your partner – you can find it all on ClickBank.
The majority of ClickBank users experience a love/hate relationship with the programme, but whether you feel the products are great or disastrous – the buying experience is said to be an efficient and professional one.
Having purchased a substantial of ClickBank products in the past – for review purposes – I can honestly say that I have never experienced any problems in regards to receiving payments, similarly, nor have I experienced any problems in regards to claiming a refund.
In recent times, readers have queried a new provider named 'ClickSure'. Offering an extremely similar service to ClickBank, but based in the UK. I explained to them that ClickSure is a platform used for publishers to sell their products and buyers to obtain them.
But Should Information Publishers Or Affiliate Marketers Use ClickSure?
ClickBank works – we're not saying it's perfect, but it works all the same. With ClickBank, publishers and affiliates get paid whilst buyers get refunds should they require them – nothing is too much work, it's straightforward just as it should be.
In comparison, ClickSure are somewhat new and inexperienced. What they have done in effect is copy ClickBank's existing idea, whilst ClickBank were the innovative company that put this idea in place originally.
In regards to ClickSure's members – publishers and affiliates are utilising them with mediocre results, whilst others are far less complimentary about the service they receive.
Here are a few reasons as to why:
Inadequate Customer Provision – ClickSure may be a new company, but that is not an excuse for poor customer service. The reason we have listed their poor customer service is due to the site not incorporating the relevant contact details on their site.
Restricted Payment – ClickSure only accept credit cards for payment, as opposed to ClickBank who allow their customers to pay via PayPal as well as all major cards. What's more, because ClickSure's credit card processing company is associated with online gambling websites, buyer's credit cards have been getting blocked when using the site.
Delayed Refunds – Refunds are available upon request, yet there have been several cases where people have had to wait a number of weeks before their refund has come through.
Long-Winded Product Approval – If you want to en-list your products on ClickSure, you may experience a long wait. This is because product approvals currently have a long waiting list. In some ways this shows the company have some form of quality control, yet on the other hand it can be rather frustrating if you are looking to launch your product swiftly.
Beware of the Rumours – There have been rumours that the products on ClickSure are ClickBank's rejects. If this rumour happens to be true this means those who have been banned from ClickBank are now selling on ClickSure, which is a rather worrying prospect.
Despite these unfavourable pointers, it's not all bad, as there are some ClickSure users who are content with the service they have received and hopefully it will only be a matter of time until this new and aspiring company leave their teething troubles trailing behind.
With any new company; it is essential that they arrive on the scene providing an alternative service, which is what ClickSure have done. Yet, at this point in time, they are still finding their feet and so, at this stage – whether you are a buyer, an affiliate marketer or a publisher – I would advise caution.
We would love to hear your thoughts on ClickSure – especially if you have complimentary reviews, so get in touch and leave your feedback today.